Endless summer meal inspiration
Summer has finally arrived, and with it comes longer days, balmy evenings, BBQs and parties. With so much going on, you need quick, tasty recipes that will keep you going all summer long. Whether you're after recipes for everyday dishes, family gatherings, outdoor parties or just some healthy snacks, we've got all the summer meal inspiration you need on Cookidoo®.
Cold dishes to prepare ahead
Get in the mood for your summer holiday with some al fresco dining! Get ahead by preparing some dishes in the daytime that can be served cold with a few accompaniments for dinner, leaving you more time to relax and enjoy the sunshine. Recipes such as Satay Turkey Skewers are delicious and simple; serve over a quick chopped salad for a light dinner. Many recipes that are usually served hot can also be served cold, such as frittata, quiche or rice pilaf.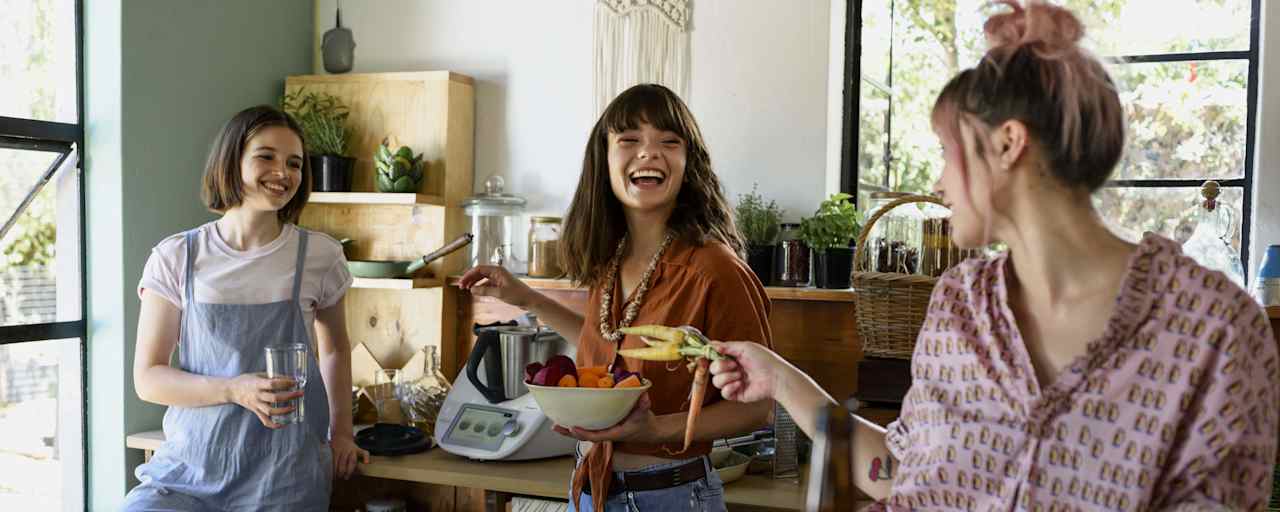 Dips are the perfect finishing touch
A simple dip can elevate a cold dish to something really special, and they're so quick to prepare in Thermomix®. Try serving these Thai Style Fish Cakes cold, with some tasty sweet chilli sauce for dipping, or whip up a batch of this Mexican Black Bean Dip and serve with shop-bought crackers, if you'd prefer to leave the oven off. One of the easiest ways to experiment with different dips is to start with a basic sauce and add flavourings to it; our Best Basic Houmous is a great place to start.
Mayonnaise Makes a Meal
Mayonnaise is one of the best blank canvases for creating fresh, flavourful dips. Making Mayonnaise with Thermomix® is fast and easy, and most importantly, it works every time! Prepare a batch and then get creative by adding whatever flavours take your fancy.
• Pesto mayonnaise: add a spoonful of Thermomix® Basil Pesto to your mayonnaise and then stir into cold, cooked pasta for a quick pasta salad.
• Barbecue mayonnaise: stir in a spoonful of Barbecue Sauce.
• Cocktail sauce : mix up half quantities of mayonnaise and Tomato Ketchup in your Thermomix® for a super quick sauce to serve with seafood.
• Curry dressing: stir a spoonful of Tikka Paste into mayonnaise to make a curry dressing; delicious mixed with cooked, diced chicken and enjoyed in a sandwich.
Even more inspiration…
We've got so many summer recipes to inspire you on Cookidoo®. Try searching for cold soups such as gazpacho or vichyssoise, fresh spring rolls, cold Asian noodle bowls, sushi… whatever you're in the mood for! With Thermomix® in the kitchen, you're only ever minutes away from a delicious summer meal, leaving you more time to get outside and enjoy the sunshine.