Pumpkins – not just for Halloween!
Mashed with a little butter, roasted until caramelised around the edges, or blended in a soup – pumpkins are one of the most versatile members of the squash family. As well as tasting delicious, they're also good for you! Rich in fibre and an excellent source of vitamin A, pumpkins are a great addition to our diets.
At this time of year, pumpkins are considered an essential part of Halloween celebrations. The custom of carving pumpkins began in Ireland in the 19th century, where people would place them outside their homes with lanterns inside to ward off spirits. Today, the majority of the 1.5 billion lbs. of pumpkins grown in the US annually are sold for Halloween!
Make the most of this flavourful squash while it's in season with our top tips for pumpkins.
Pumpkin carving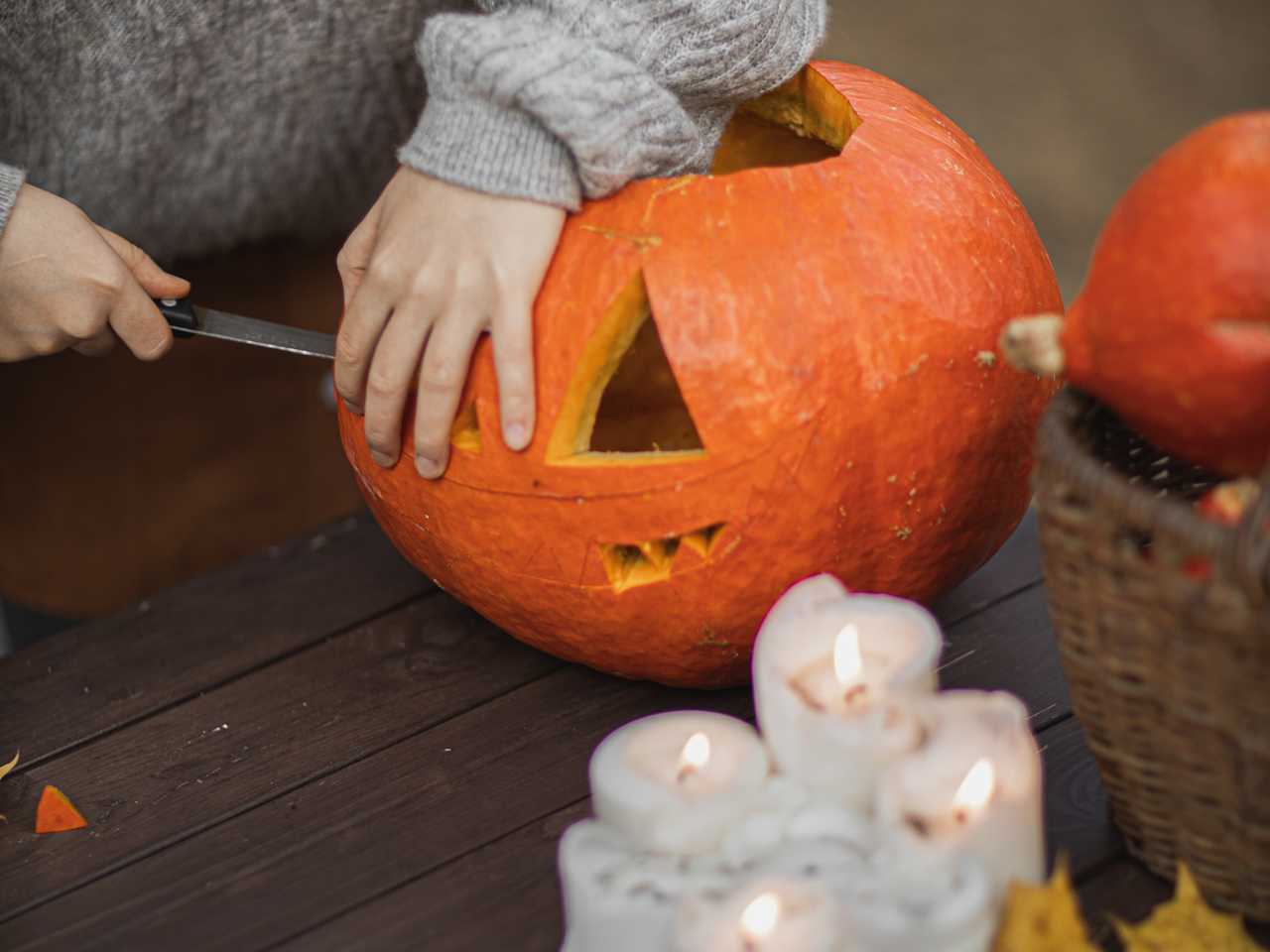 Carving pumpkins is a fun way to get involved with Halloween festivities. Here are our suggestions for ensuring your pumpkin carving goes smoothly:
● Choose a light pumpkin Heavy ones are more likely to have tougher skin, making them more difficult to carve.
● Carving pumpkins can be a messy task! Lay down lots of newspapers or kitchen towel to protect surfaces.
● Keep them in place Arrange a rolled up tea towel in a doughnut shape on the surface you're carving on, to rest your pumpkin on and stop it slipping around.
● Keep it simple! If you're planning an intricate design, try sketching it out before you carve to ensure you don't make any mistakes.
● Get the children involved Pumpkin carving can be fun for children, but little hands are best tasked with adding scary special effects with glitter or pens.
● Play it safe Try using LED lights to light your pumpkins instead of candles.
Delicious pumpkin recipes
If you've never tried cooking with pumpkin before, you're in for a treat! It has a similar flavour and texture to sweet potato, making it great in both sweet and savoury dishes. There are so many different ways to prepare pumpkin; give one of the below methods a go and see what you think!
● Steaming: steaming pumpkin in the Varoma while other ingredients cook in the mixing bowl below is a great time-saving trick. Try our Steamed Pumpkin with Curried Lentils for a delicious vegetarian family meal.
● Roasting: this method really brings out the sweet flavour of pumpkin. Simply slice it, skin-on or off, drizzle with olive oil and sprinkle with your favourite herbs and spices. Garlic powder, black pepper and sea salt are great for adding a savoury kick - perfect for adding to risotto.
● Blending: once softened, pumpkin can be easily blended to make a delicious base for soups. Try this out in our tasty Pumpkin and Quince Soup.
● Puréeing: pumpkin purée can be used in many recipes. Once prepared, it will last for up to three days in the fridge or 3-6 months in the freezer. As well as being a staple in many sweet and savoury recipes, pumpkin purée makes a great replacement for tomato sauce on a pizza base!
● Baking: sweeten up your autumn with some delicious homemade treats. Pumpkin is the star of the show in many desserts, from the classic Pumpkin Pie to our moreish Pumpkin, Coconut and Orange Cake.
Using pumpkin seeds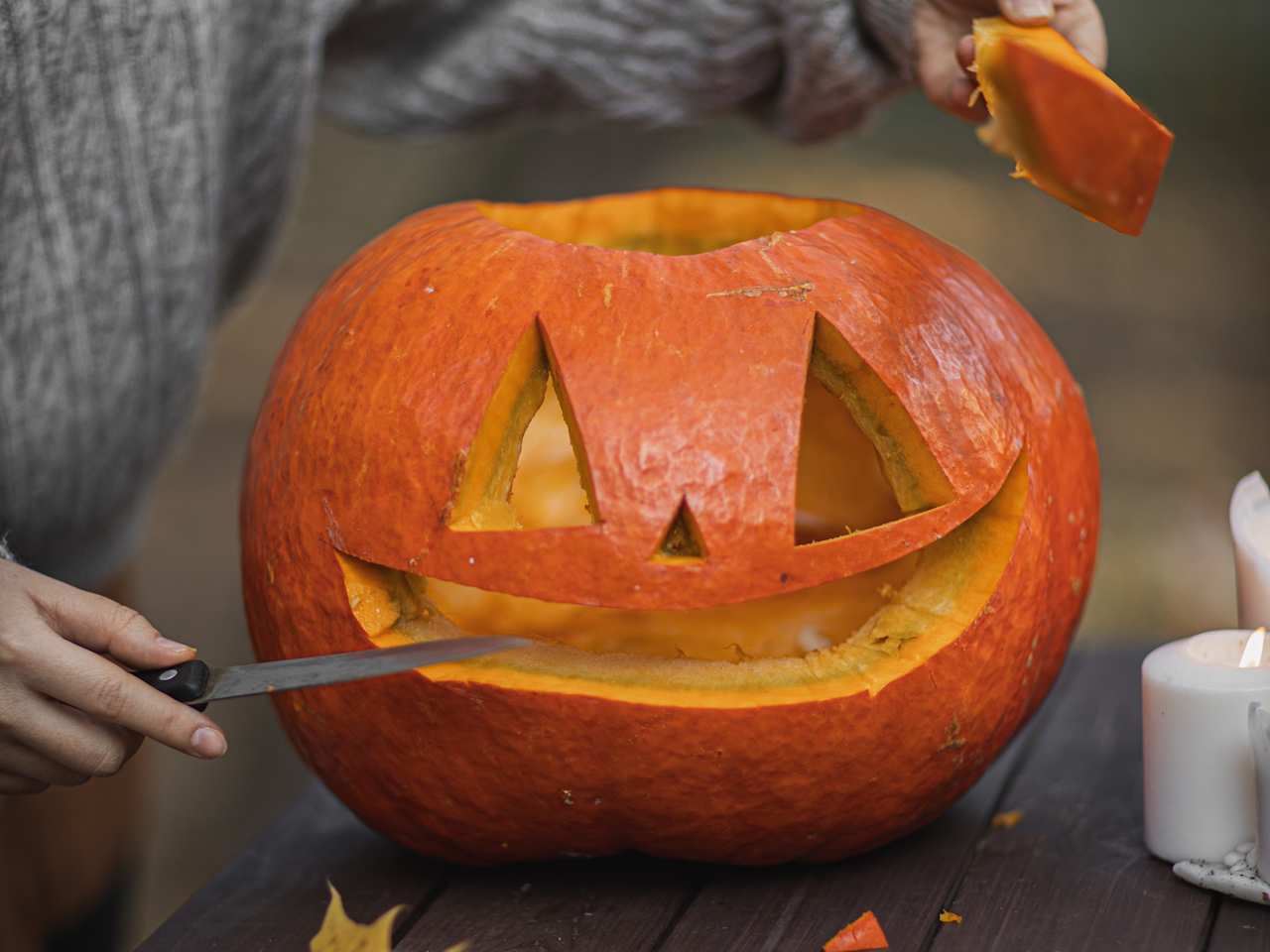 Pumpkin seeds are really tasty, and they're packed with protein and healthy fats. Add to salads or bread recipes, or as a topping for soups, smoothie bowls and dips. You could also add pumpkin seeds to your granola for some extra goodness at breakfast.
Decorating with pumpkins
If you're looking for an impressive centrepiece for your Halloween party table, try making a pumpkin punch bowl! Simply hollow out a large pumpkin, place a glass bowl inside and fill with your favourite cocktail or mocktail. Our Apple Punch and Hot White Wine Punch with Cranberries are both sure to go down a storm with party guests.
So, all that's left to do now is decide on your costume, pop some spooky music on and enjoy a ghoulish Halloween with Thermomix®.
Happy Halloween!