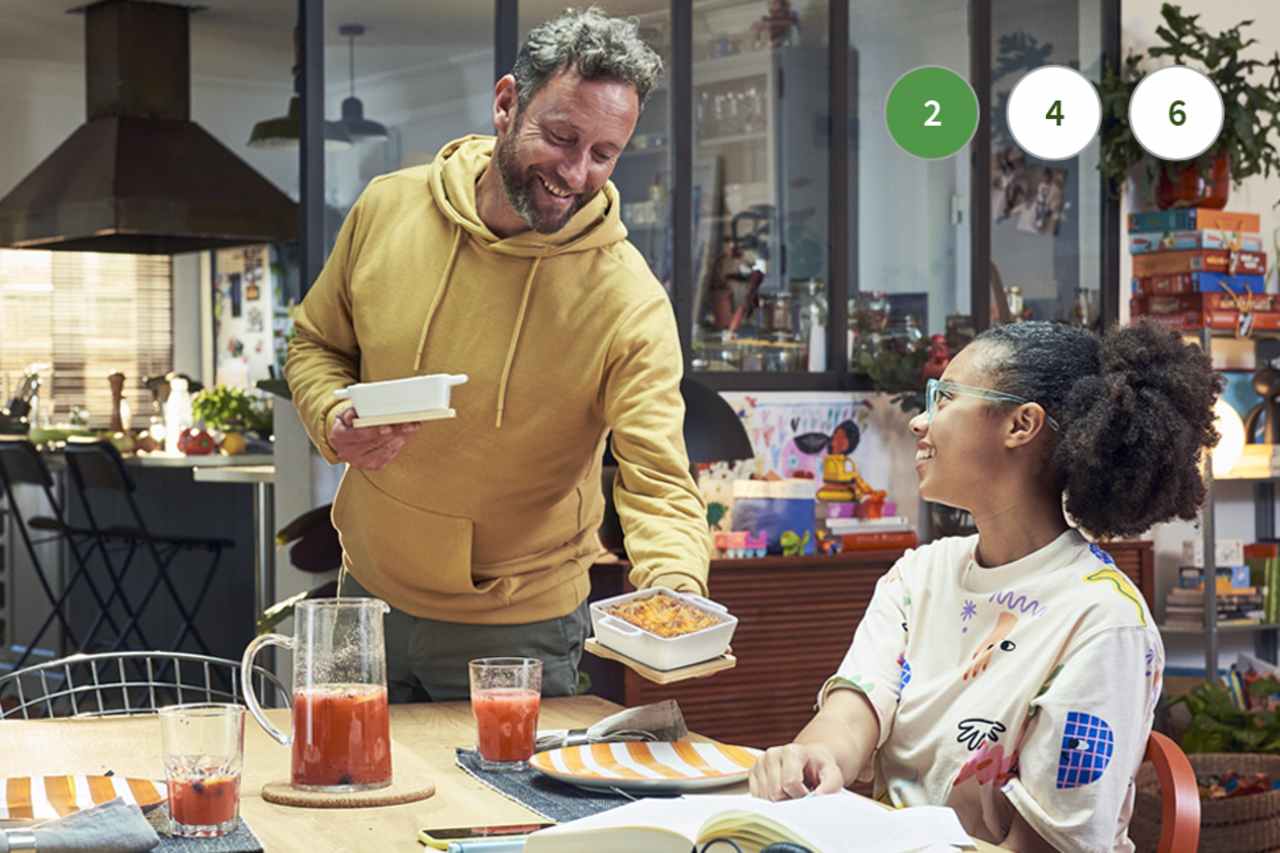 Scaled Recipes: Tips for success
Take even more control of your dining experience with our exciting new Scaled Recipes feature that lets you tailor your meals to your household size, so you can have it your way, every day.
With the ability to select expertly tested serving sizes or even customise and adapt serving sizes to match your needs, you can open a whole new window of possibilities, and servings!
Read on to learn more about the two types of Scaled Recipes on Cookidoo®, so you can cook for the right number of people sitting at your table!
What are Tested serving sizes?
On the recipe detail page, the most cooked and best rated recipes now come with multiple serving size options, with our Thermomix® success guarantee! These serving size options have all been expertly tested by our Thermomix® recipe developers.
Getting started
On the recipe page, simply click on the "Serving size" button to check whether we have tested other serving sizes for your selected recipe. If you find a serving size you want to try, click on your desired serving size, and start cooking, it's that easy!
You can access tested serving sizes from the recipe detail page on the Cookidoo® app, website and on your Thermomix® TM6.
What are Automatically adapted serving sizes?
If you're a creative cook who can't find the tested serving size you were looking for, no need to worry! Our new automatically adapted serving sizes allow you to adjust the serving sizes of Cookidoo® recipes using our scaling technology and save them in Created Recipes.
Getting started
You can automatically scale existing Cookidoo® recipes by picking the recipe of your choice and opening the recipe detail page on the Cookidoo® app or website. Click on the "Serving size" button and then select "Make it your own" to adapt this recipe and save it in Created Recipes.
Watch our tutorial video to learn more
Please note: This feature is only available via the recipe detail page, not from within Created Recipes. Automatically adapted serving sizes are NOT tested by Thermomix®, and we only guarantee the success of recipes that have been 100% created and tested by us.
Automatically adapted serving sizes: Important considerations
• Thermomix® success guarantee is not valid once a recipe is imported into Created Recipes.
• Do not exceed the maximum capacity of the mixing bowl (max. 2.2 litres), the Varoma or other accessories. Be extra cautious when you are using high temperatures and/or speeds.
• Always refer to your Thermomix® instruction manual for further safety information.
• Not all parts of the recipe will automatically adapt to the new serving size. For example, baking recipes where you prepare dough are generally set up for a certain sized baking tray or tin, so be sure to adapt the size of the tray or tin accordingly.
• You can review all the changes that were made to the recipe once it has gone through the automatically adapted serving size process. Carefully check each and every step and change, correct as needed, and amend any parts of the recipe that were not automatically adapted.